Story of a Bull
When you see one of our bulls in the sale ring or in the pens before the sale, we would ask you to stop and think about the fact that what you see is the product of considerable genetic planning that took place over two years earlier. In addition to considering frame sizes and phenotype compatibility, we use an EPD projection worksheets for every mating we make, both ET and AI. We also run the numbers for inbreeding and relationship coefficients to ensure the bloodlines are not too close. Our objectives are to breed cattle that meet or excel in the traits of economic importance. We breed for cattle that are born easily, grow quickly and ultimately produce a carcass that will grade choice or higher.
Another attribute that you see the result of in the sale ring when you observe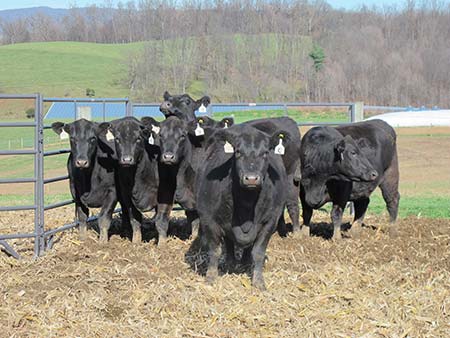 the bulls is the herd health and nutrition programs that we employ. We are believers in fetal programing, i.e., the health and nutrition plateaus that we keep the females on prior to breeding and during gestation. We get help form David Baber of Southern States and Jeff Tyson of Rockingham Mill to make sure that the cow has the feed and mineral program she needs to pass on to the fetus so that the resulting calf has every opportunity to express his genetic potential. Studies show that the nutrition and health programs on which the cows are nurtured during pregnancy have high correlations to the end product merit of the calf. We believe in these concepts and do everything we can to manage the cows properly. Herd health is another critical management practice that we employ to the maximum. Cattle that are experiencing health issues don't grow and develop well. At birth, calves receive Multimin 90, probiotics, and navel dip. As they mature, all bulls are on herd health program consisting of a combination of Bovi-Shield Gold, Triangle 10, Ultrabac 7, Alpha 7, Multimin 90 and Long Range.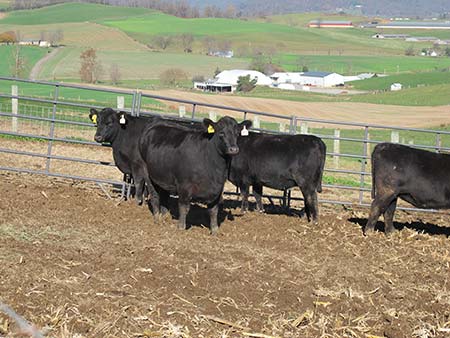 Our bulls are tested using Angus GS Genomics Profile. EPDs that traditionally contained all pedigree, performance and progeny information now also include results from available genomic, or DNA, tests. Using these tests allows us to provide bulls with increased predictability and decreased risk for young and unproven animals due to enhanced accuracy of EPDs. As a result you get better characterization of genetics for difficult-to-measure performance traits (such as carcass traits, maternal traits and feed efficiency). These tests also provide you with the ability to make more rapid progress for traits that are important to you, due to more accurate selection, easier identification of genetic outliers and the ability to buy young animals with confidence earlier in their lives.
One of the higher genetic heritability correlations among the Angus cattle population is in the mature weight category, i.e., calves will gain weight like their sires. In order to provide our buyers with bulls that will transmit weight gain traits to their calves,Bottom Line. Travis Meteer, Extension Agent and Beef Cattle Educator at University of Illinois sums up bull buying as follows: "Seek value when buying a bull. The lowest priced bull is seldom the best valued. If you find a bull that has the traits you are looking for… buy him. Set a budget, but understand it is often hard to find everything you are looking for. Bulls with the traits you are seeking can add value to your cattle in a hurry. They can add far more value than a cow. The bull you buy this year will impact your herd for the next 5 years with his calves, but his daughters will impact your herd for the next 20 years. Make a good investment. Buy a bull that adds value to your calves and your cowherd." our yearling bulls go through a 90 - 120 day feed trial. The results of these trials are published in the data block below the pedigree of each bull in the catalog to assist buyers in their selection process. Actual performance is also a consideration we make when we determine the sale order.
For bull buyers that are retaining ownership of their cattle through the feedlot or programs that finish cattle and collect carcass data, we believe that carcass ultrasounds are critical to complete each bull data profile. Yearling bulls receive ultrasound measurements from a certified ultrasound practitioner to determine marbling and ribeye scores. These results are also published in our catalog and available to assist our buyers in their decision making process. Just prior to sale time, each bull receives a radio frequency identification data tag and a breeding soundness exam by a licensed veterinarian. The bulls are checked for scrotal circumference, semen motility and morphology. This is another quality check on each bull to ensure that each bull is a breeder and is ready for sale according to American Angus Association standards. Bulls that don't pass the semen test are culled for slaughter.
As the bulls develop we employ an independent 3rd party evaluator to look at each bull for phenotype, soundness, feet and legs, disposition and other traits for strict elimination and culling as necessary. This is another step in the development process that ensures that the bulls we put in the sale ring are the best product that we can provide.